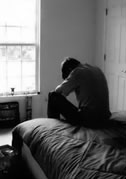 You may feel like there is no way out, or nothing that can cure your depression. I want you to know that couldn't be further from the truth. By discovering and properly dealing with the cause of the depression you can emerge as the happy, energetic, and optimistic person you strive to be.
I offer a unique clinical intervention for treating and eliminating depression. My treatment protocol includes an initial assessment to determine your level of depression. I work with you via a counseling regimen that includes: specific homework assignments for each week, body work, meditation/relaxation, and thought restructuring. I work from a strengths-based perspective to identify not only the symptoms of your depression but also the root causes. Using a full spectrum of intervention and dealing with the root issues provides long-term and efficacious treatment to resolve and eliminate depression.
—————————————————————————————-
Read my recent articles on depression in my online blog article archive.
—————————————————————————————-
If you are a resident of Washington County (St. George and surrounding areas), you are entitled to a free no-obligation 10-minute confidential phone consultation with me in which I can answer any questions you may have and make a determination about how best to help you. I am happy to discuss how my depression treatment works and how it can benefit you. My treatment protocol is unique and has proven powerful and effective in elimination and abating depression in scores of my previous clients.
I am a licensed therapist practicing in Southern Utah, in the St. George area. I am trained to provide treatment for both individual and relationship problems. I have worked in inpatient settings, outpatient therapy, and life-coaching settings with individuals and families on a variety of personal and relationship issues. I have extensive work and training working with addiction, depression, and adolescent/parent issues. I have taught university courses on family relationships and presented at national conferences regarding my clinical treatment paradigm.
I look forward to hearing from you. I can be reached by phone at 435-574-9193 or by email.